KOMONO CURATED is an ongoing series of Capsule Collections & Artist Collaborations developed to push the boundaries of the known accessory world and conquer new frontiers. CURATED allows us to collaborate with influential artists & creative individuals from around the globe. These exclusive releases expand the reach of Komonism into museums, concert venues & fashion runways by displaying the talents of those who inspire us. Komono is proud to introduce its latest capsule collection curated by the charismatic artist Baloji. Critically acclaimed for his modern interpretation of Congolese music, Baloji infused his savvy and modern style into 4 unique styles of Komono sunglasses. The malachite acetate used for the sunglasses is exclusivly developed by Komono.
UV 400 Protection
Scratch-Resistant Polycarbonate Lenses
Malachite Acetate Frame
Gold Plated Stainless Steel Details
High Quality Optical Hinges
Moldable Temples
Cleaning Cloth and Hard Case Included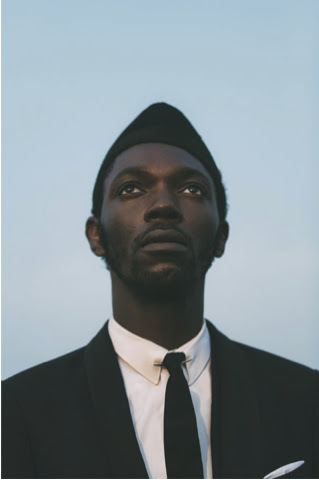 Baloji is a poet, composer-lyricist/beatmaker, scriptwriter, actor and performer, video artist and stylist.
After the release of his album Hotel Impala (2008), his Congolese reinterpretation (Kinshasa Succursale, 2011) was awarded 4 stars by the world's press (NYT, Guardian, El Pais, Les Inrocks..) and after more than 200 live shows all over the world, Baloji is back with a new EP.
His music stands at the crossroads of African music, the French singer-songwriter tradition and afro-american music (soul, funk, jazz) discovered through the culture of sampling and electronic music (trance, deep house) which has its roots in the region of Belgium where Baloji grew up.    Baloji means "man of science" in Swahili, but during the colonial period, that meaning shifted to "man of the occult sciences and sorcery". By placing his resilience at the centre of his work, Baloji reconciles all these influences to enrich his creative projects. 64 bits & Malachite offers a musical style based in these crossfertilisations and collaborations, unbridled and freed from the labels of "genres".
Kitoko
The over-sized Kitoko frame is inspired by 80s hip-hop styling and above all, by the glasses worn by Baudouin I, the Belgian king (1951-1993), nicknamed "Mwana Kitoko", meaning 'beautiful white man', or 'handsome young man' in Lingala. Baudoin influenced the European inspired, middle class stylistic movements of the 1960s, which helped shape the tradition of Congolese elegance. Smart urban wear and an eye for detail, used to personalise an outfit, not provoke a reaction.

Dizzy
Pierre Mandjeku "Dizzy" is a legendary Congolese guitarist. He has mastered the Congolese musical revolutions over the past five decades and during recent years he has joined Baloji on stage. To Baloji, Dizzy is more than a band member; he is a role model, a surrogate father, and undeniably the most elegant musician ever. The Dizzy frame is a true artist's style to be worn on stage, yet the small details make these sunglasses classy and elegant.
Tshala
Tshala Muana AKA the Congolese Donna Summer, a living legend. With hypnotic trance rhythms, her music finds its natural extension in a secular dance: the Mutuashi. Tshala was a pioneer in an era where most women in music were little more than arm candy or dancers. Her apparently frivolous music and provocative choreography tackles big questions: the role of women and their right to pleasure in African society. She inspired Baloji to develop this libertine style with feminine gold rims: more than sunglasses; they are a statement.
Mujinga
Mujinga is a tribute to Baloji's mother. It was thanks to her big, almond-shaped eyes that he recognized her amidst the crowds in Lubumbashimarket when they met for the first time after 25 years, a reunion that inspired this "Cat's Eye" shape. Big eyes attract attention and betray your thoughts: glasses can act as protection and disguise. Gold emphasizes the eyebrows, creating a distraction and the gold teardrops are like a permanent reminder of the melancholy that inhabits these women.